Moves for iPhone
It's not often that I'm actually impressed by an app. You've build a new weather app and it's beautiful and kind of unique? Good for you, I don't care.
I get why everyone is building weather apps, the data is easy to get, it's no problem to display it in form of an icon and you have a ton of ways (yes, you can measure ways in tons, shut up) to build something that looks :f1 new :f2 . The only issue is that you still haven't build something new. There are dozens of apps that display the same data in another way. Weather apps are a perfect playground for bored developers and designers.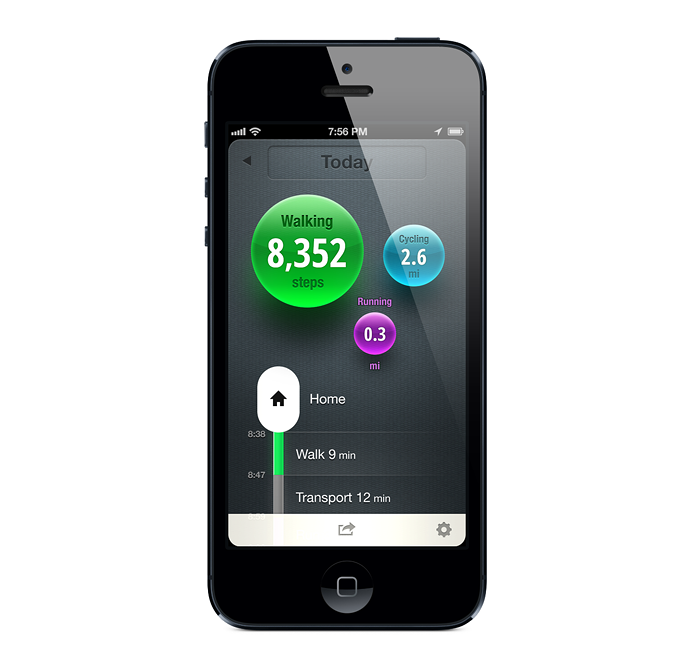 However, I am impressed by Moves. Found it three days ago and it's the best app you never have to open again that I know of. It basically tracks your location all the time, without any strange social options attached. Over the course of a day it tracks your movement and the kind of the movement. Walking, running, cycling, motorized transportation, everything. It even detects if you're not moving and creates a place for that time.
Why would you need that? You don't. I think it's interesting to see where and how fast I walked and how long I have been at a place. It's just like using DayOne everyday, there is no immediate value but collecting data over a long timeframe makes the data itself kind of valuable when you look at it at a later time.
There are always two concerns when you're using an app like Moves: How much battery power is lost to it? I don't know, it sure uses a bit, but I personally don't care because I can recharge my phone everywhere I go. The second one issue is: Is there a way to export my data? There isn't. But the developers promised an export function for the future.
I'm very impressed by Moves. It's simple, it doesn't need me to do anything but moving around, I don't have to remember to open the app and I get a beautiful representation of my walking habits.
Homescreened!