Brilliant. Haven't seen a landing page that evoked more emotions than this new one from Spotify. Amazing work. Uncluttered, human, somehow cheery. 10/10, would visit again. (via)
Remember, back in April, when I said that the concert by Lisa Hannigan was the best I've ever been to? Well, that changed. It's even better when Glen Hansard and Lisa Hannigan play together. Yesterday evening was incredible.
And this made my week:
fontbox.es is a dropbox-application that helps you organize and sync your fonts across all your computers. With the agency plan, you will also be able to distribute fonts with multi-user licences among your coworkers.
The first project by Codein is a great idea. Looking forward to see it in action.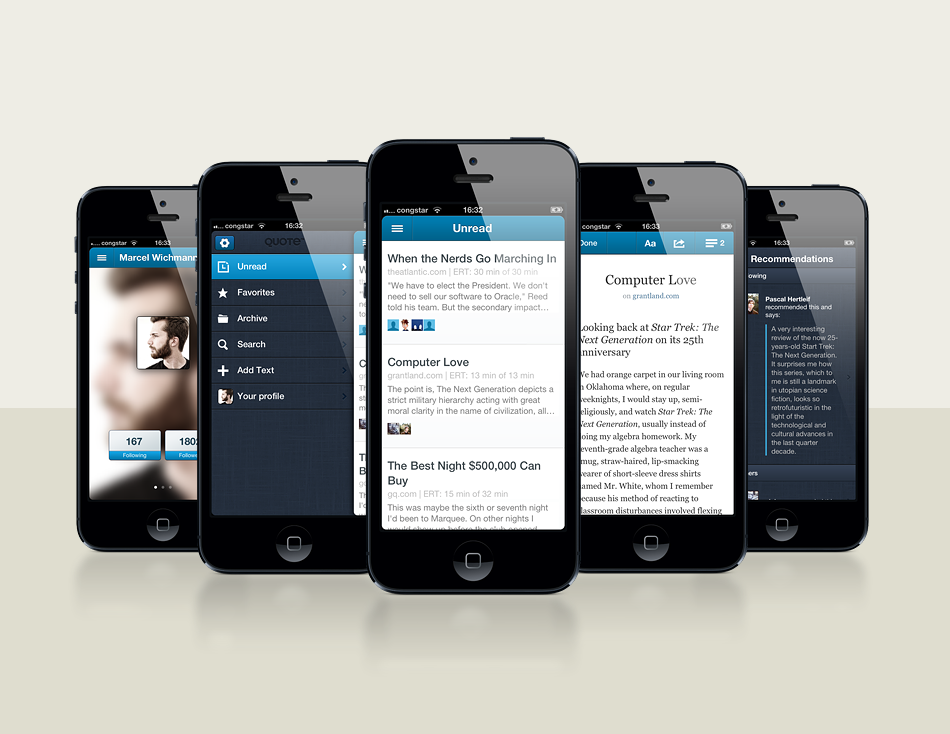 We just released QUOTE.fm for iPhone. It's a free update and you can grab it here: QUOTE.fm for iPhone and iPad
Like I wrote in the QUOTE.fm blog, we released this version without Find, and there are some very good reasons for it, which I will talk about in another blog post over there soon.
We've played Trine 2, together with Martin. See how we try to… well, I have no idea what the story is about, but that's not really important anyway. Make sure to subscribe to Saving Princesses, we have a lot of fun with this and you can expect a lot more videos to come.
This tool will allow you to edit the radius of a rounded rectangle after you've drawn it.

You can also:

Resize each corner's radius independently. Edit multiple layers at once. View the pixel size of the radii of an existing rounded rectangle
This just changed my life. Wow. I've been waiting for a feature like this for so long and here it is and it works as advertised. (via)
foldifyapp.com – For all the people who didn't get the memo that the iPad is not for creating things. Brilliant idea. (via)
Sehr geehrte Immocty UG,
meine Ur-Oma reimte schon immer "Nichts Gutes geschieht in Wandsbek, darum sei Schlau, bring einen Knüppel."
Ich lernte die Frau nie kennen, die Information kann also durchaus falsch sein, aber egal. Es geschah also, dass ich auf meiner Suche nach der perfekten Wohnung über eine Ihrer Anzeigen auf einer der üblichen Seiten stolperte. Die Fakten klangen nicht schlecht; merkwürdigerweise gab es aber weder Adresse, noch Bilder zu der Wohnung.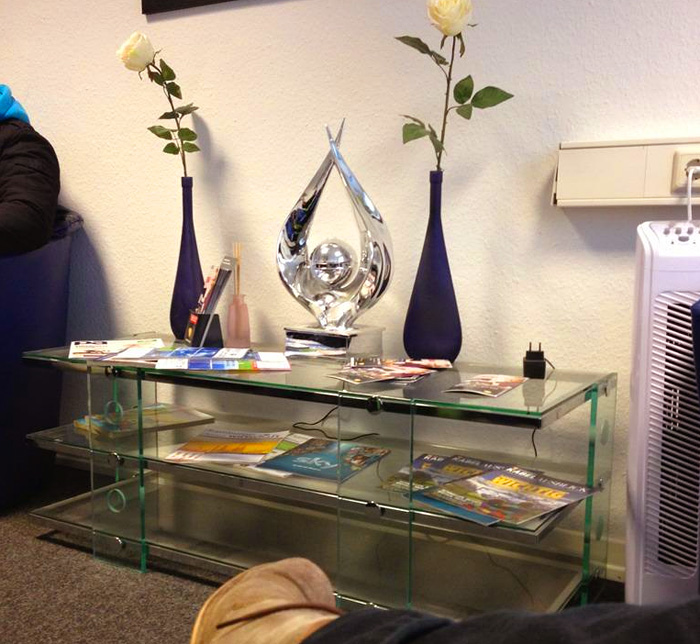 Muss ja nichts heißen, dachte ich mir, griff zum Telefon und wählte Ihre Nummer. Ein freundlicher Mensch nahm ab, informierte mich, dass die entsprechende Wohnung leider schon vergeben ist, er aber mal schauen kann, ob nicht noch etwas anderes im Angebot sei. Klar, nur zu und wie der Zufall es so will, war ein vermeintlich perfektes Angebot verfügbar. Provisionsfrei, günstig, perfekter Stadtteil.
Cool! Ich sollte dann bei Ihnen im Büro vorbei kommen um die Kontaktdaten des Vermieters zu bekommen. Merkwürdig, irgendwie ungewöhnlich, aber vielleicht gibt es dafür ja einen guten Grund.
Nachdem ich Ihre Webseite oberflächlich betrachtete, war mir schon nicht mehr so ganz wohl bei der Sache. Sehr geschmacklose Angelegenheit, noch konnte ich nicht ahnen, dass "geschmacklos" das Motto des Nachmittags wird. Die tolle Handschlag-Grafik oben links war tatsächlich kein bisschen beruhigend.
30 Minuten U-Bahn-Fahrt später stieg ich aus und begab mich auf den Fußweg zu Ihrem Büro. Es gibt vermutlich keinen trostloseren Bezirk als den rund um die Straßburger Straße, aber es ist der absolut richtige Ort für eine Firma, die auf die Verzweiflung Ihrer Kunden baut. Wohnungssuche in Hamburg ist schwer.
Angekommen. Mir wird geöffnet und ich werde in ein, sehr geschmacklos eingerichtetes Wartezimmer gebracht. Aus dem Nachbarraum hörte ich die folgenden 10 Minuten rund vier Personen beim Mittagessen zu, bis ich dann abgeholt wurde. In der Zwischenzeit kamen zwei weitere "Kunden", die sich zu mir ins Wartezimmer gesellten.
Ich werde also in ein – geschmacklos eingerichtetes – Büro geführt, setze mich und erkläre, warum ich da bin.
"Hallo, ich sprach mit Ihrem Kollegen am Telefon über eine Wohnung in Eppendorf. Ich sollte vorbei kommen um die Vermieterdetails zu erhalten."
"Ah ja, das hier ist unsere Webseite, wenn Sie hier klicken und dann da, sehen Sie alle Angebote für 2-3 Zimmer Wohnungen."
"Ja, okay."
"Das da dürfte sie sein. Eppendorf, 62 Quadratmeter, rund 720€ warm?"
"Ja, genau, klingt ganz so."
"Hervorragend. Wenn Sie sich nachher hier oben mit dem Passwort, das ich Ihnen geben werde, einloggen, sehen Sie die Kontaktdaten des Vermieters und die Fotos der Wohnung."
"Ich… ich kam also jetzt für ein… Passwort hierher?"
"Ja. Bei uns kriegen sie provisionsfreie Wohnungen bla bla bla…"
Daraufhin bekam ich eine zweiminütige Erklärung, dass Sie im Prinzip folgendes machen: Sie teasen Wohnungen grob an, locken "Kunden" in Ihr Büro um Ihnen dann mitzuteilen, dass Sie für 89€ ein Passwort kaufen sollen, das dann vollen Zugriff auf die Webseite liefert.
Diese 89€ bekommt man aber wieder, beteuerten Sie, und zwar wenn eine Wohnung über Ihre Seite gefunden wurde kommt der Kunde wieder zurück zu Ihnen und bucht dann durch Sie seinen Strom-/Wasser-/Wasmanhaltsobraucht-Anschluss. Ist dies passiert, gibt es die 89€ wieder und Sie verdienen Geld durch die Provision der Versorgungsunternehmen.
Auf meine Frage, ob die Kontaktdaten auf der Webseite dann denn direkt die Besitzer und Vermieter der Wohnungen sind, antworteten sie, dass es auch Maklerfirmen und alles andere sein können. In anderen Worten: Ich nehme an, dass Sie einfach die üblichen Webseiten nach Angeboten durchsuchen, die provisionsfrei sind. Dann spiegeln Sie diese auf ihrer Webseite, nehmen aber alle relevanten Daten raus, damit man auf das Passwort angewiesen ist.
Nach ein paar kritischen Fragen antwortete man mir verletzt, dass Sie ja auch irgendwie Geld verdienen müssen und Ihr Service mir schließlich Zeit spart, indem ich nicht selbst die bekannten Seiten nach provisionsfreien Wohnungen durchsuchen muss.
Ich kommentierte das ganze nicht weiter, bedankte mich und machte mich auf den 30 minütigen Rückweg.
Vielen Dank, dass sie meine Zeit vergeudet haben indem sie mir persönlich von Ihrem Angebot erzählen wollten, das mir Zeit sparen soll. Vielen Dank, dass sie mich ohne mit einem Wort auf den Umstand der 89€ hinzuweisen nach Sonstwo haben fahren lassen, vielen Dank, dass ich ihr geschmackloses Geschäftsmodell näher kennenlernen durfte. Vielen Dank, dass ich mich das erste Mal in meinem Leben fühlte, wie Taff-Reportagen über Firmen mit fragwürdigen Geschäftsmodell sich anhören.
Mit allerbesten Grüßen Marcel
Warum ich diesen Beitrag schreibe
Nachdem ich den Firmennamen las und mir das ganze durchaus spanisch vorkam, fragte ich Google nach der Firma und es kam nichts nennenswertes dabei herum. Im Prinzip erwartete ich einen Beitrag wie diesen, aber offenbar hat sich bisher noch niemand die Mühe gemacht, ein paar Zeilen über das Geschäftsmodell der Immocty UG zu verlieren.
Alles Geschriebene basiert auf meiner persönlichen Erfahrung, die wörtliche Rede ist ein Gedächtnisprotokoll und ich bezichtige niemandem irgendeiner illegalen Machenschaft, ich möchte lediglich weitere Leute davor warnen, den Fehler zu machen und ihre Zeit mit dem Weg in das Büro zu verschwenden. Fairerweise muss man sagen, dass alles hier beschriebene auch in den AGB auf der Webseite steht, aber hey, wer liest sich die schon vorher durch. Stattdessen fährt man hin und wenn man schon mal den Weg auf sich nahm, ist die Wahrscheinlichkeit, dass das alles nicht umsonst gewesen sein soll, recht hoch. Und dann zahlt man eben die 89€ für das Passwort. Moralisch etwas krumm.
Ein Beitrag von der Gesellschaft für Beiträge, die hoffentlich auf der ersten Seite bei Google landen.
The Paperwhite
contains no surprises, is pretty boring and yet the best Kindle ever.
I don't know if anyone expects a full-fledged review from me and I don't really care. This isn't one. Deal with it. Here are some bullet points: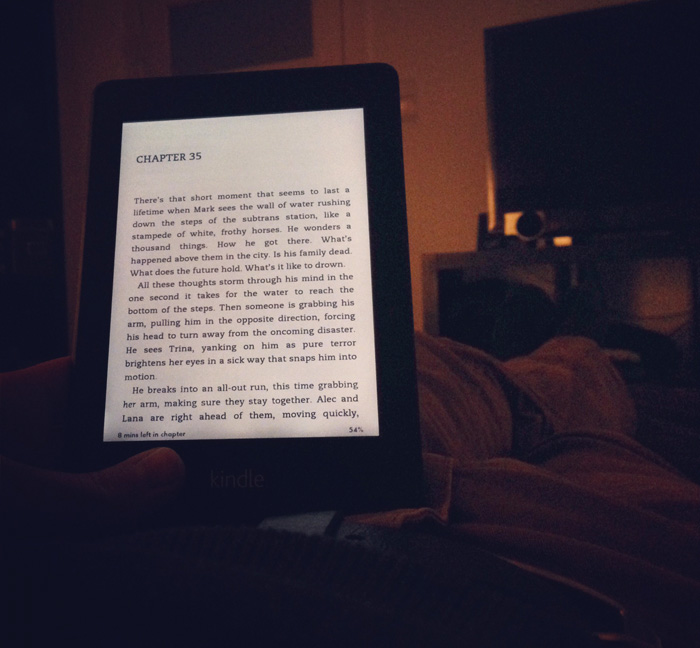 It feels more responsive than the Kindle 4.
The resolution is visibly better.
The light is a great addition it's more blue than white, though.
The device is a bit thicker and heavier than it's predecessor.
I'm kind of surprised about the touch screen. It works really well, especially when you use the onscreen keyboard to write a short note on a highlight.
I miss the hardware buttons of the Kindle 4. Yeah, swiping and tapping is nice but it happens all the time that I accidentally :f1 turn :f2 the page.
I'm a big fan of the "x mins left in chapter" feature you see in the bottom left corner.
One of the best things is the cover view in the main menu. I use my Kindle only for books, so this view is my new bookcase.
Conclusion: If you don't have a Kindle, buy this one. If you have a Kindle 4 and the money to upgrade: Buy this one. If you're happy and you know it: Clap your hands.
Some day I decided that I'm not going to move into an apartment that's worse than the previous one. At least as long as I can prevent myself from it somehow.
At the moment I live in flat share together with Martin and everything is nice and we don't have any of those problems an arrangement like ours normally involves — but I have to move out.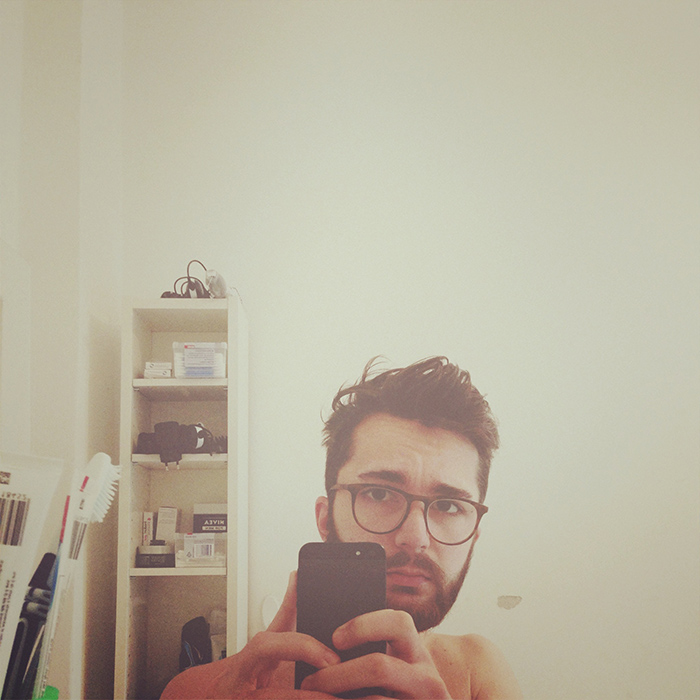 The first reason are a few pipes in my room which make a shitload of noise as soon as anybody in the house activates their heating. It's not the usual noise you would expect from a heating system. My landlord visited me to take a look at it and told me that this is in fact very uncommon but he'd rather not repair the heating system because nobody ever knows where the defect lays. Interesting work ethics.
The second reason is that I'm ready to live alone. It'll be the first time in my entire life and I'm looking forward to it.
However, because of the noise I got rid of my cancelation period and I'm going to move out as soon as I found something nice.
Finding something nice
That's the tricky part. I visited an apartment last sunday. Kind of perfect, 2 1/2 rooms, just 10 seconds away from my old flat… aaand I got the rejection today. That's a bummer, because my landlord promised me that I get preferred if I like any of his other apartments. So today I got a call telling me that I didn't get the one from sunday but the landlord would like to show me another one in the neighboring house. It'll get renovated and I could move in in mid december.
That's kind of nice, but there are three downsides:
It only has two rooms and 50 square meters. I want a living room, a bedroom and some kind of office, so that's not enough.
The only crazy lady of the street lives in the same house.
It's the same kind of house like the one I live in currently in, so there is a chance of another bugging heating system.
Except for the slight possibility of the same noise, one could settle for this apartment, especially because the move would be a piece of cake. Take all the stuff out of the old flat, take it with you a few steps and shove it in the new one. Sounds promising.
The thing is: I don't want to. I want to live in an enviroment that suits my needs and is exactly what I want. I want at least two and a half rooms, I want a nice kitchen and I don't want to have to take the bus to get to my flat. That's all.
And I'm not going to settle for something that's easy and nice, I'm going to settle for something that's as good as it possibly could be. Which is not an easy decision. I want to move out as fast as possible. The noise is just too loud and I'm not able to sleep without Oropax.
I'm afraid I have to survive some more nights like this, when I want to stick to my requirements. And I am going to.
Bring it on, Hamburg. I'm ready to visit your vacant flats!